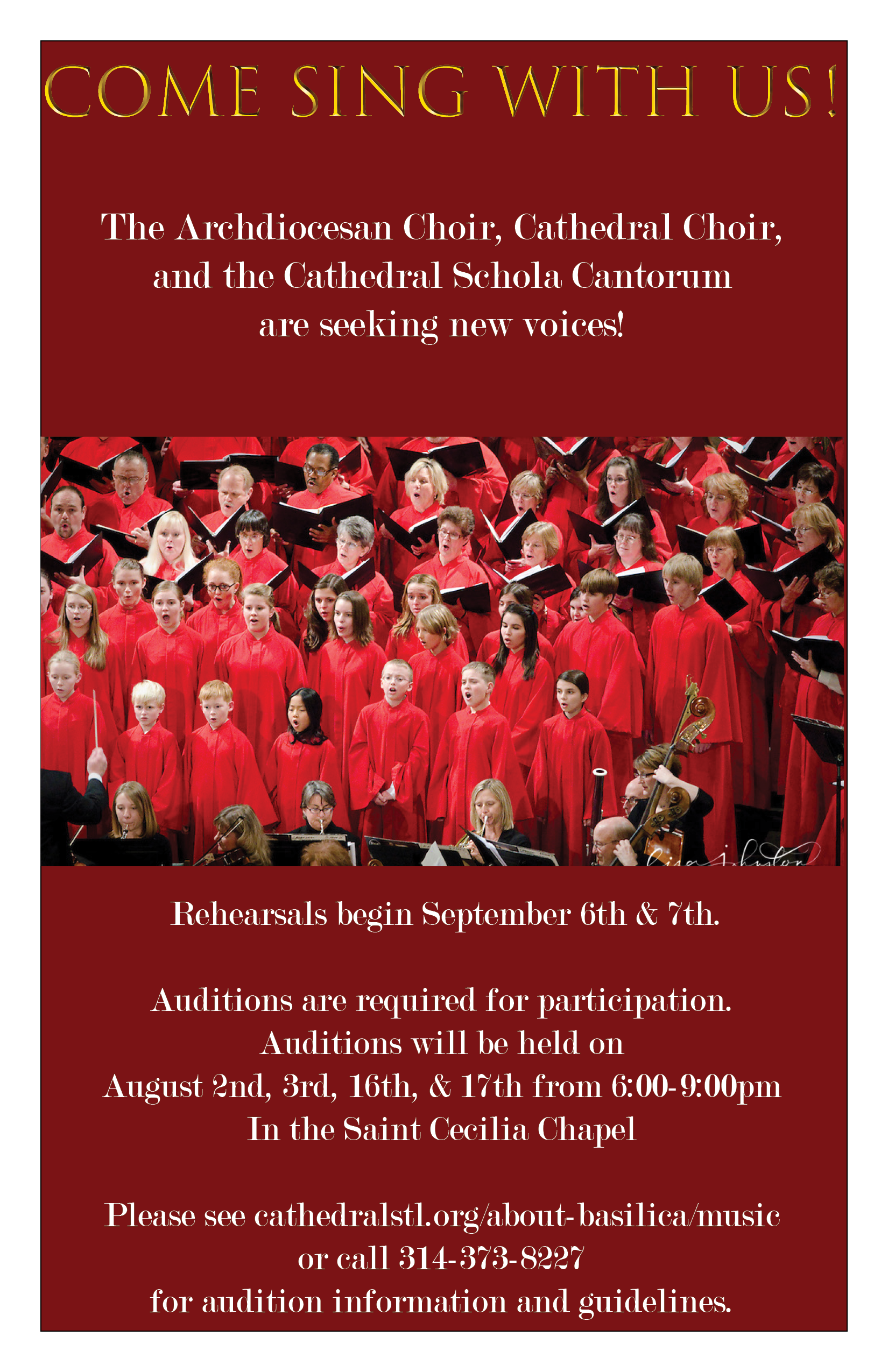 Choir Auditions Summer 2022
Welcome to the Music Pages for the Cathedral Basilica of Saint Louis, Saint Louis, Missouri.
Our program includes many dedicated musicians from throughout the Archdiocese of Saint Louis: members of our Cathedral Choir, Cathedral Schola, Archdiocesan Adult Choir, and Archdiocesan Handbell Choir.
St. Louis Cathedral Concerts is a real treasure for classical and sacred music lovers in the St. Louis region. Visit Cathedral Concerts to get the details of the world-class artists who visit the Cathedral Basilica each season. Come to the Cathedral and "Experience Great Music in a Great Space."
Listen and enjoy the many CDs of the Cathedral Basilica. Enjoy the beauty of our choirs and hear the thrill of the 7,600 pipes of the Great Cathedral Organ. Our CDs may be purchased online or by printing out and mailing or faxing the order form on the SALES: CD/Choral Series page.
We are honored to be a part of the Choral Series with MorningStar Music. The Series contains some of the very best in Choral Music and Service Music for today's church.
Adult Choir
Come & Hear
Experience the transcendent beauty of God in one of our liturgies or concerts.
Generations of composers and musicians have contributed to the Church's treasury of Sacred Music. Because of their efforts, countless faithful have been transformed by the experience of the divine through the beauty of the music of the Sacred Liturgy. The Cathedral Basilica of St. Louis is dedicated to cultivating a program whereby you can become part of that story and experience the transformative power of Sacred Music.
Singers and instrumentalists wishing to join the Cathedral Choir, the Cathedral Instrumentalists, or the Archdiocesan Choir should contact the Office of
Sacred Music for more information and to schedule an audition/interview.
Handbell Choir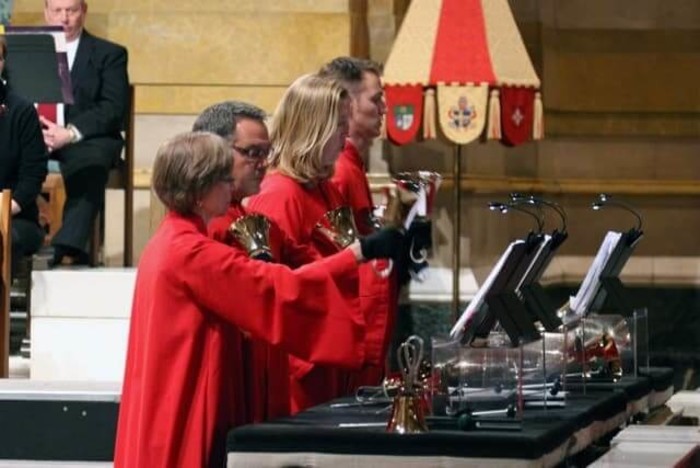 The Archdiocesan Handbell Choir meets every other Tuesday at 7:00 pm and performs for Archdiocesan events, Masses/events in the local community, and an occasional 5:00 p.m. Sunday Mass at the Cathedral Basilica. Choir members must be able to read music. Previous handbell experience is recommended, but not necessary.
Each December, the Handbell Choir participates in the Christmas at the Cathedral Concert, an annual highlight of the Cathedral Concerts Series.  The Choir has also performed in the Concert Series at Second Presbyterian Church in the Central West End, in various community Advent programs, and have participated in assorted handbell workshops.
For additional information, or to schedule an audition, please contact the Cathedral Music Office at 314-373-8227.