Choir Auditions & Schola Cantorum Openings 2023
The Archdiocesan Choir, Cathedral Choir, and Schola Cantorum are once again holding auditions as we enter into the second half of the choir year. For the Archdiocesan Choir and Cathedral Choir sight-reading is not required but appreciated. Excellent sight-reading and vocal technique is required for the Schola Cantorum.
We currently have one soprano and one alto position open in the Schola Cantorum. We have not reached our target number for members in the Archdiocesan or Cathedral Choir.
If you are reading this please consider this a call to action for you! Please contact the music office to schedule an audition. The choirs are a great way to bring the Catholic community of St. Louis together, give greater glory to God. The choirs are also a great opportunity for fellowship and friendship. Do not miss out on this unique opportunity to inspire beauty and evangelize the faithful at Holy Mass! You can contact the music office at [email protected] or 314-373-8228.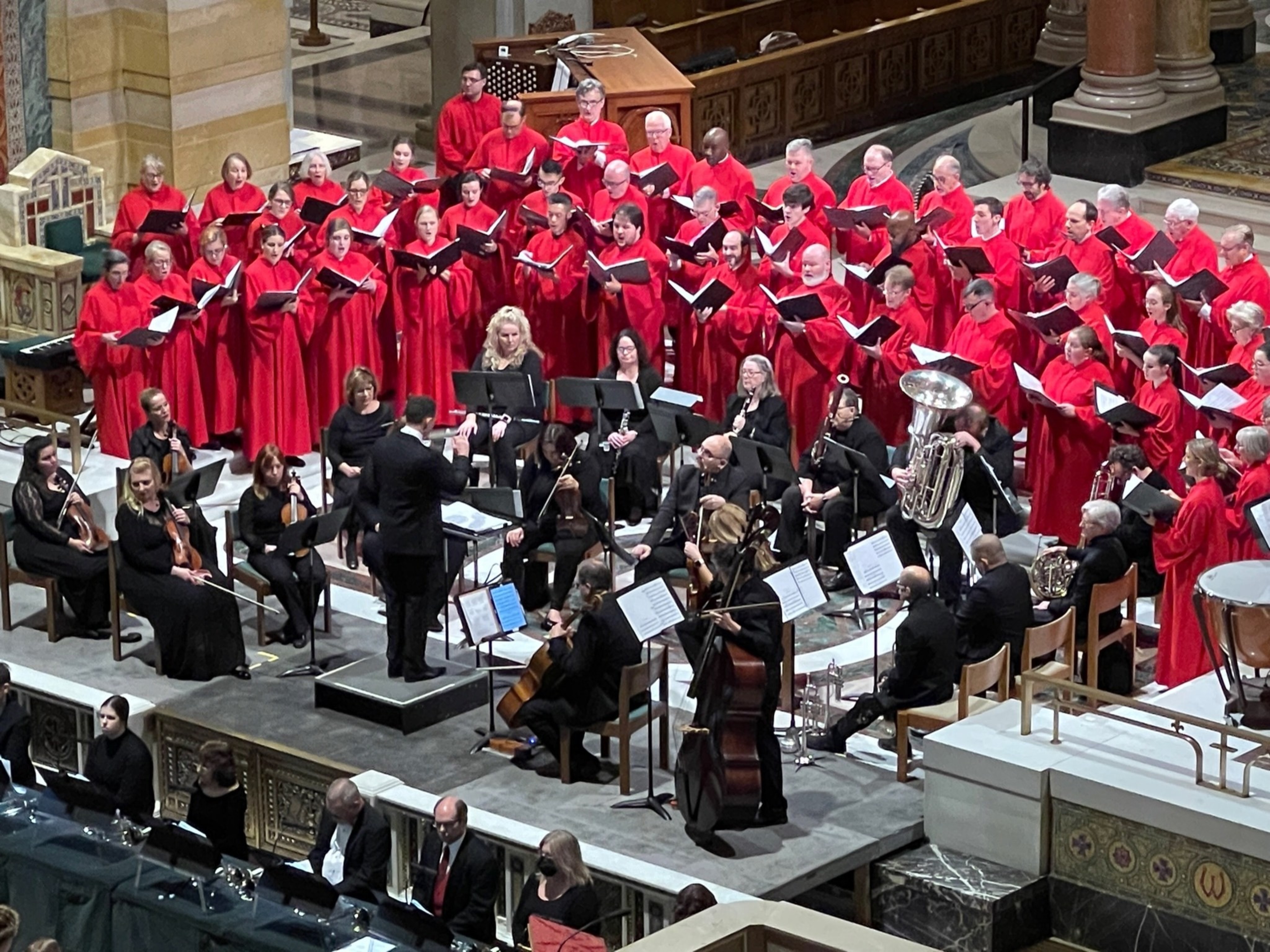 Welcome to the Music Pages for the Cathedral Basilica of Saint Louis, Saint Louis, Missouri.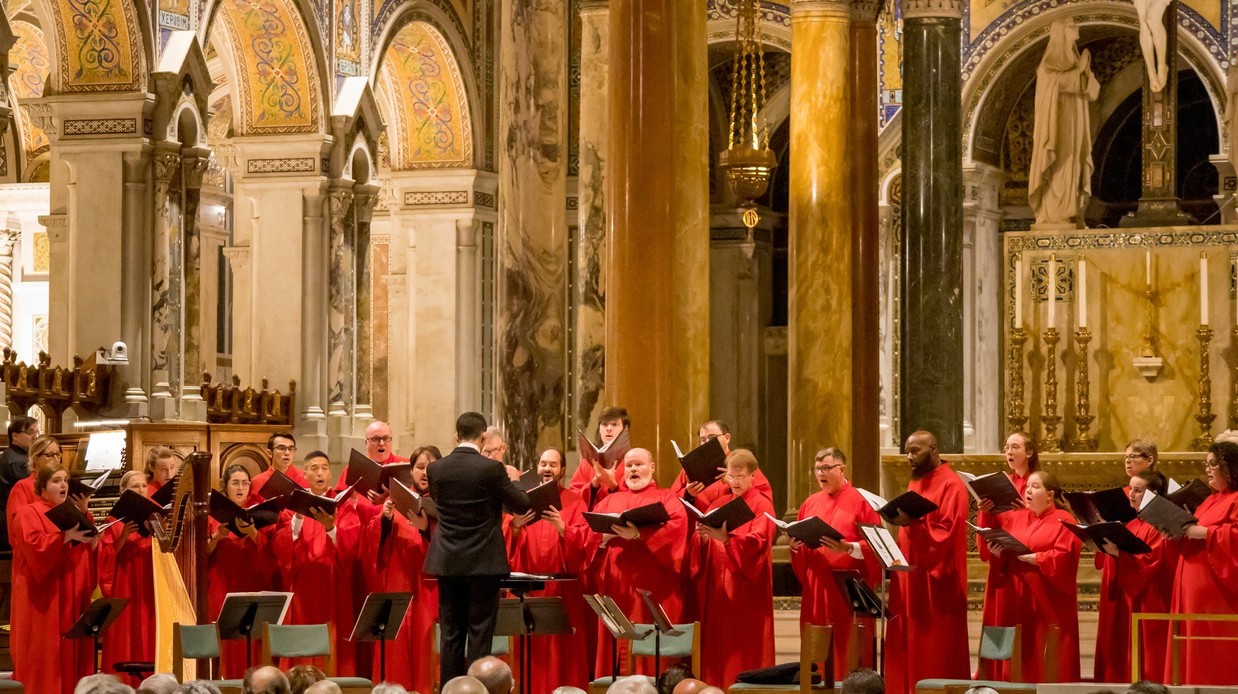 Our program includes many dedicated musicians from throughout the Archdiocese of Saint Louis: members of our Cathedral Choir, Cathedral Schola, Archdiocesan Adult Choir, and Archdiocesan Handbell Choir.
St. Louis Cathedral Concerts is a real treasure for classical and sacred music lovers in the St. Louis region. Visit Cathedral Concerts to get the details of the world-class artists who visit the Cathedral Basilica each season. Come to the Cathedral and "Experience Great Music in a Great Space."
We are honored to be a part of the Choral Series with MorningStar Music. The Series contains some of the very best in Choral Music and Service Music for today's church.
Cathedral Choir and Schola Cantorum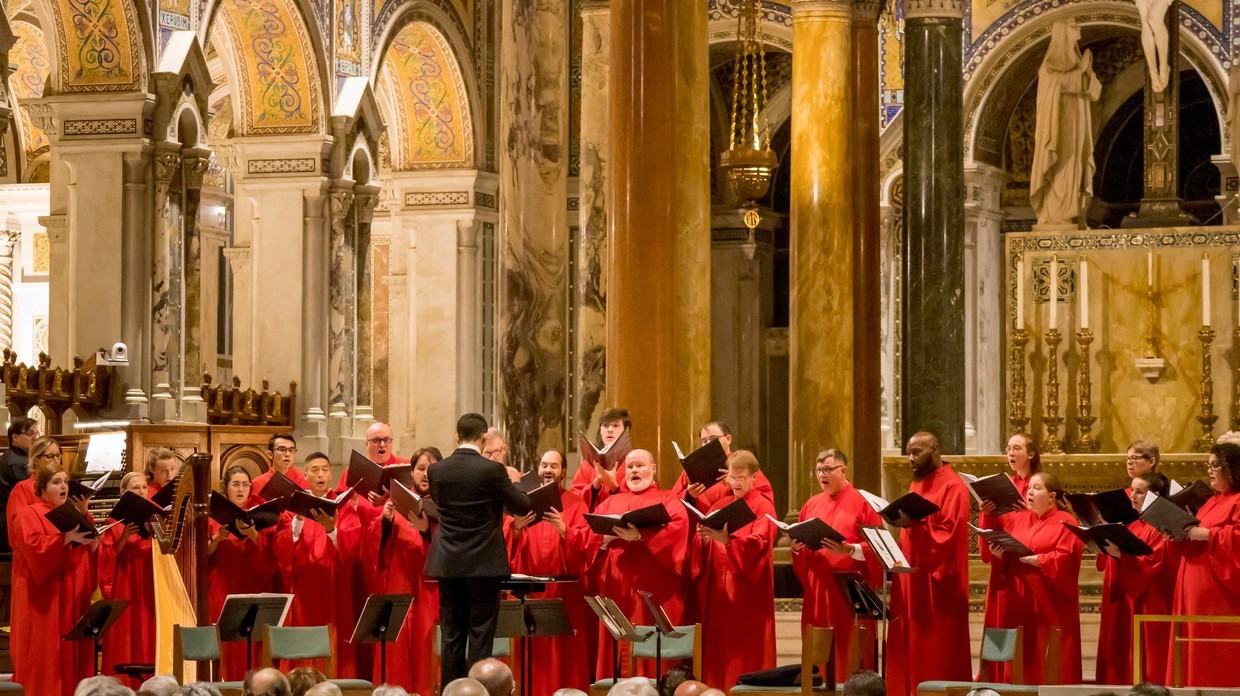 Come, hear, and experience the transcendent beauty of God in one of our liturgies or concerts.
Generations of composers and musicians have contributed to the Church's treasury of Sacred Music. Because of their efforts, countless faithful have been transformed by the experience of the divine through the beauty of the music of the Sacred Liturgy. The Cathedral Basilica of St. Louis is dedicated to cultivating a program whereby you can become part of that story and experience the transformative power of Sacred Music.
Singers and instrumentalists wishing to join the Cathedral Choir, the Cathedral Instrumentalists, or the Archdiocesan Choir should contact the Office of Sacred Music for more information and to schedule an audition/interview. The Cathedral Basilica of Saint Louis music program is made up of two choral ensembles. The first is the Cathedral Choir which is made up of volunteer singers who by way of a successful audition become members. The second vocal ensemble at the cathedral is the Schola Cantorum. The schola is comprised of professional singers who have gained position in this ensemble by way of audition as well. Excellent sight-reading is required of these individuals. This ensemble specializes in polyphony, chant, and also sings with the Cathedral Choir for Sunday liturgies.
Handbell Choir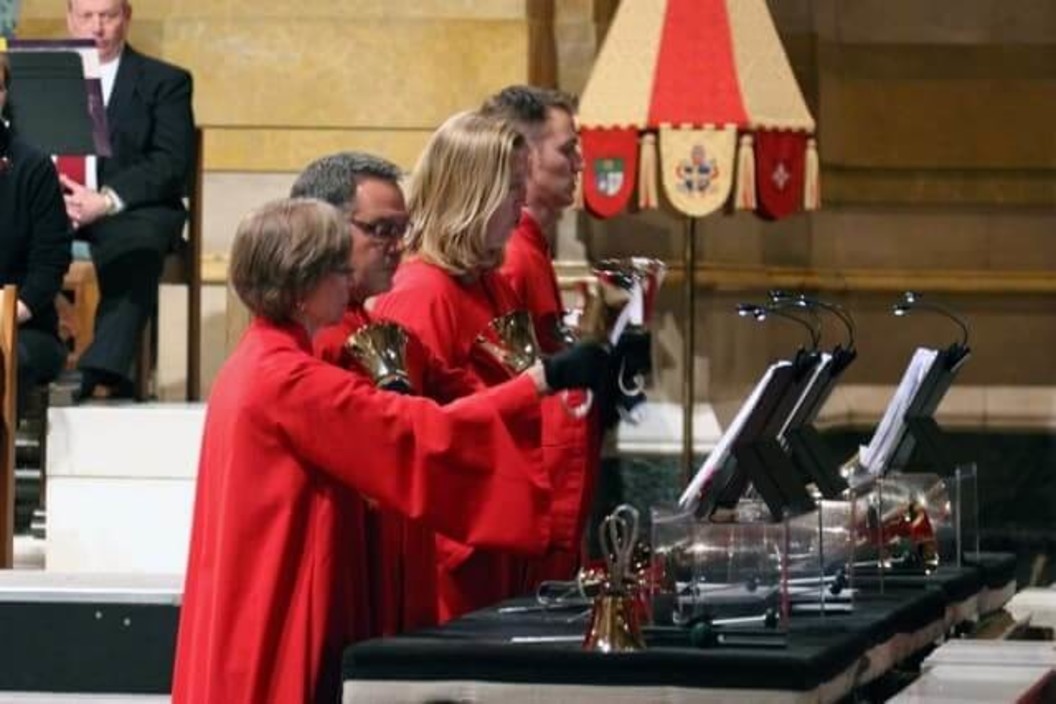 The Archdiocesan Handbell Choir meets every other Tuesday at 7:00 pm and performs for Archdiocesan events, Masses/events in the local community, and an occasional 5:00 p.m. Sunday Mass at the Cathedral Basilica. Choir members must be able to read music. Previous handbell experience is recommended, but not necessary.
Each December, the Handbell Choir participates in the Christmas at the Cathedral Concert, an annual highlight of the Cathedral Concerts Series.  The Choir has also performed in the Concert Series at Second Presbyterian Church in the Central West End, in various community Advent programs, and have participated in assorted handbell workshops.
For additional information, or to schedule an audition, please contact the Cathedral Music Office at 314-373-8227.
Artist in Residence - Mr. Scott Kennebeck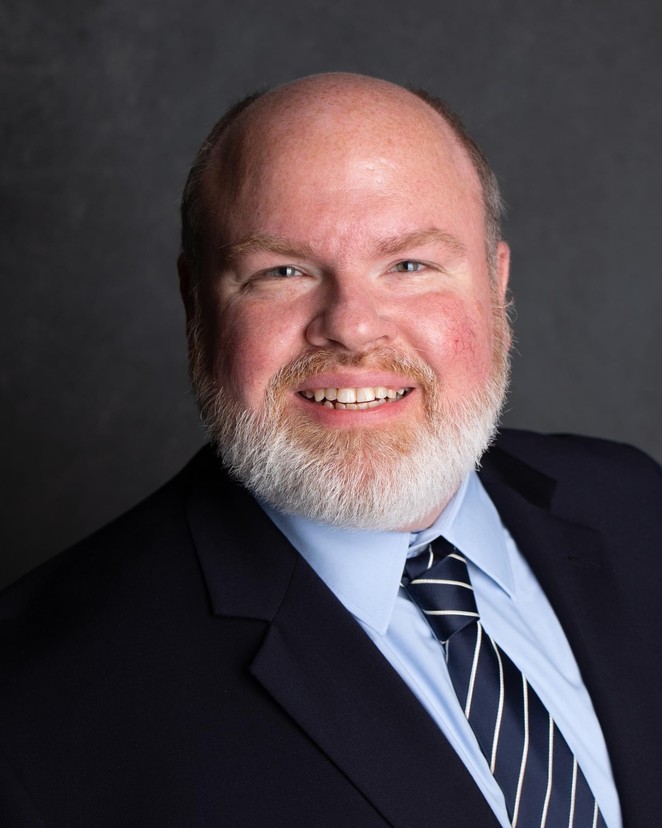 Scott is Executive Director/Artistic Director of St. Louis Cathedral Concerts at the Cathedral Basilica of St. Louis. He is responsible for running all aspects of the organization including marketing, development, selecting artists, and programming educational events. He holds a Bachelor of Fine and Performing Arts degree from St. Louis University, in both Vocal Performance and Theatre and is an active performer in St. Louis.
Since 1993 he has served as the Tenor section leader for the Cathedral Basilica of St. Louis Choir and Archdiocesan Choir of St. Louis. He also serves as cantor for the Cathedral Parish, as well as at major Archdiocesan events. He was a cantor/soloist for 100,000+ in attendance and a worldwide television broadcast audience for the Papal Mass in St. Louis, Missouri in 1999. He has toured as soloist throughout the United States, Italy, England, Germany, and Austria. His performances have included Verdi's Requiem in Rome, Italy; Hector Berlioz's Te Deum in the Cathedral Basilica of St. Louis, and numerous performances of Handel's Messiah as well as other oratorios including The Seven Last Words of Christ by Dubois. He has also performed with Union Avenue Opera and the St. Louis Muny. He holds a Bachelor's Degree in Fine and Performing Arts/Music and Theatre from St. Louis University, and has studied voice with Christine Armistead at Washington University.
In 2017 Scott was one of the winners of the St. Louis Blues NHL franchise "Search for a National Anthem Singer" competition. Since then he has sung both the Canadian and US National Anthems for over 20 NHL games at Enterprise Center to wide-spread acclaim.
Scott has multiple recordings with his collaborator John Powel Walsh including Pie Jesu, Midnight Clear, Angels Bending Near the Earth, Words to Music (Songs of Eugene Field), and Emerald Tribute, honoring the great Irish singer, John McCormack.