Introduction of 2023-2024 Choir Season
Choir Auditions & Schola Cantorum Openings 2023
The Archdiocesan Choir, Cathedral Choir, and Schola Cantorum are always open to new members. If you have a love for sacred music and wish to be a part of something bigger than yourself consider membership in one of our choirs. The Archdiocesan Choir and Cathedral Choir do not require the ability to sight-read music. Excellent sight-reading and vocal technique is required for the Schola Cantorum. For more information please follow this linke to the audition requirements outline.
If you are reading this please consider this a call to action for you! Please contact the music office to schedule an audition. The choirs are a great way to bring the Catholic community of St. Louis together, give greater glory to God. The choirs are also a great opportunity for community and fellowship with musicians and Catholics alike. Do not miss out on this unique opportunity to inspire beauty and evangelize to the faithful at Holy Mass! You can contact the music office at [email protected] or 314-373-8228.
Welcome to the Music Pages for the Cathedral Basilica of Saint Louis, Saint Louis, Missouri.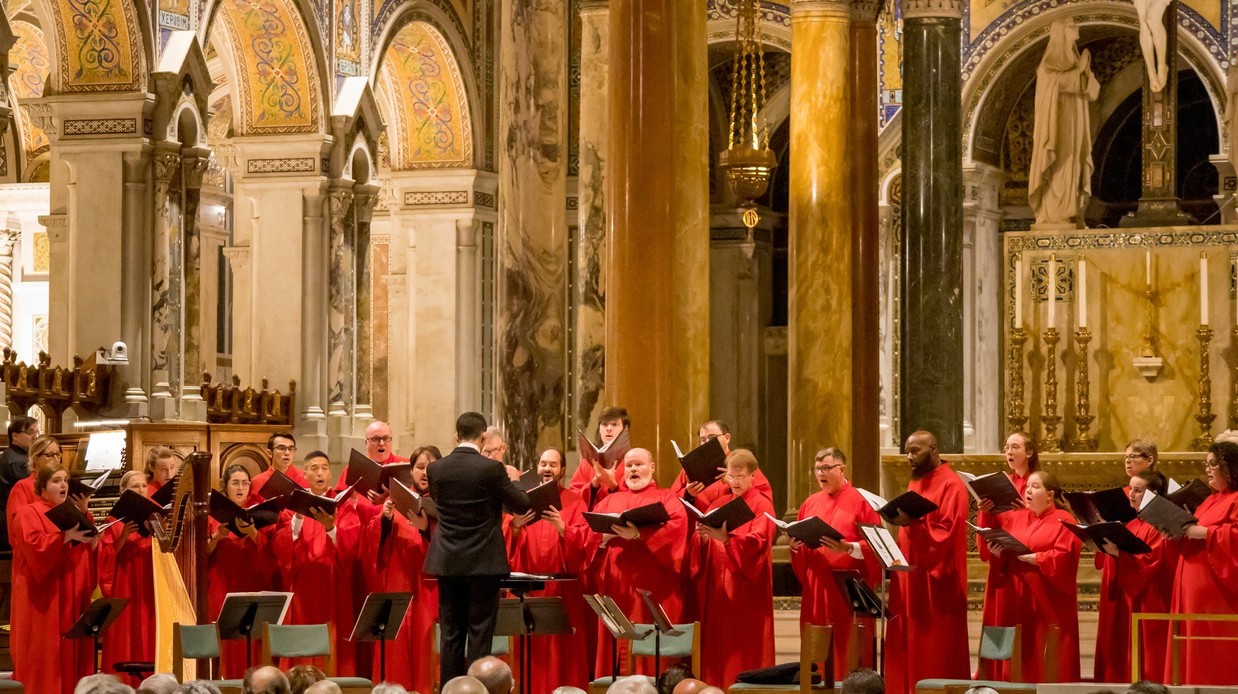 Our program includes many dedicated musicians from throughout the Archdiocese of Saint Louis: members of our Cathedral Choir, Cathedral Schola, and Archdiocesan Adult Choir, 
St. Louis Cathedral Concerts is a real treasure for classical and sacred music lovers in the St. Louis region. Visit Cathedral Concerts to get the details of the world-class artists who visit the Cathedral Basilica each season. Come to the Cathedral and "Experience Great Music in a Great Space."
We are honored to be a part of the Choral Series with MorningStar Music. The Series contains some of the very best in Choral Music and Service Music for today's church.
Cathedral Choir and Schola Cantorum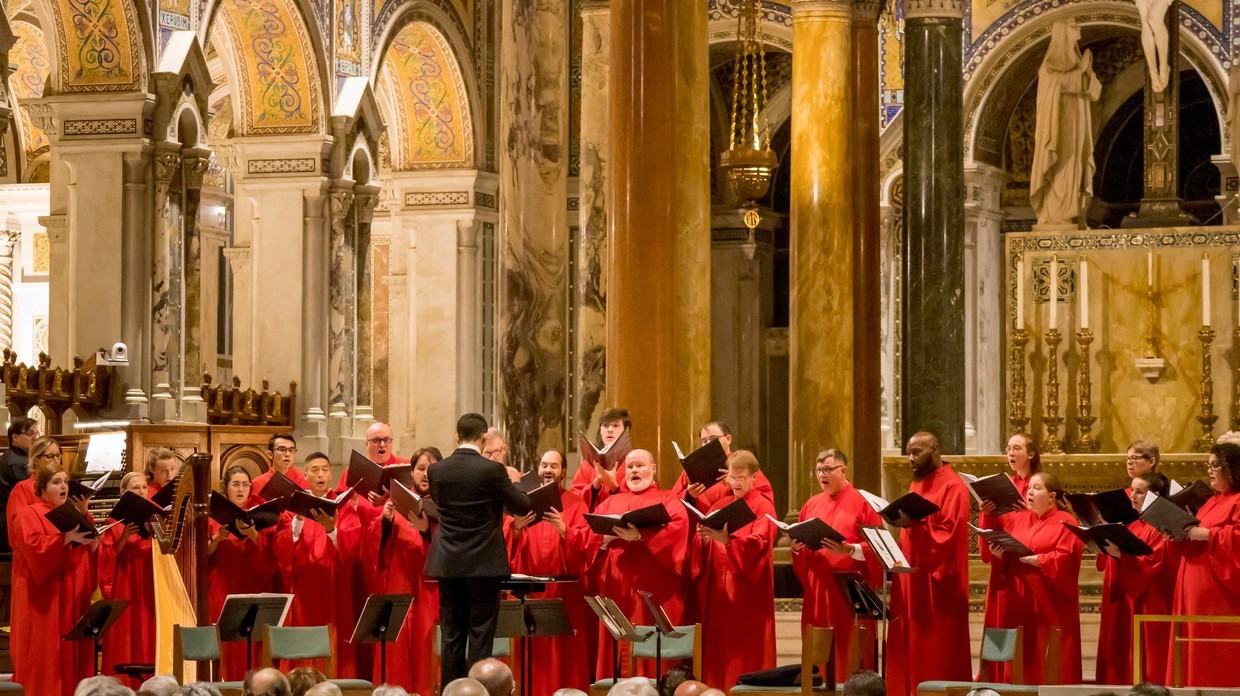 Come, hear, and experience the transcendent beauty of God in one of our liturgies or concerts.
Generations of composers and musicians have contributed to the Church's treasury of Sacred Music. Because of their efforts, countless faithful have been transformed by the experience of the divine through the beauty of the music of the Sacred Liturgy. The Cathedral Basilica of St. Louis is dedicated to cultivating a program whereby you can become part of that story and experience the transformative power of Sacred Music.
Singers and instrumentalists wishing to join the Cathedral Choir, the Cathedral Instrumentalists, or the Archdiocesan Choir should contact the Office of Sacred Music for more information and to schedule an audition/interview. The Cathedral Basilica of Saint Louis music program is made up of two choral ensembles. The first is the Cathedral Choir which is made up of volunteer singers who by way of a successful audition become members. The second vocal ensemble at the cathedral is the Schola Cantorum. The schola is comprised of professional singers who have gained position in this ensemble by way of audition as well. Excellent sight-reading is required of these individuals. This ensemble specializes in polyphony, chant, and also sings with the Cathedral Choir for Sunday liturgies.
Artist in Residence - Mr. Scott Kennebeck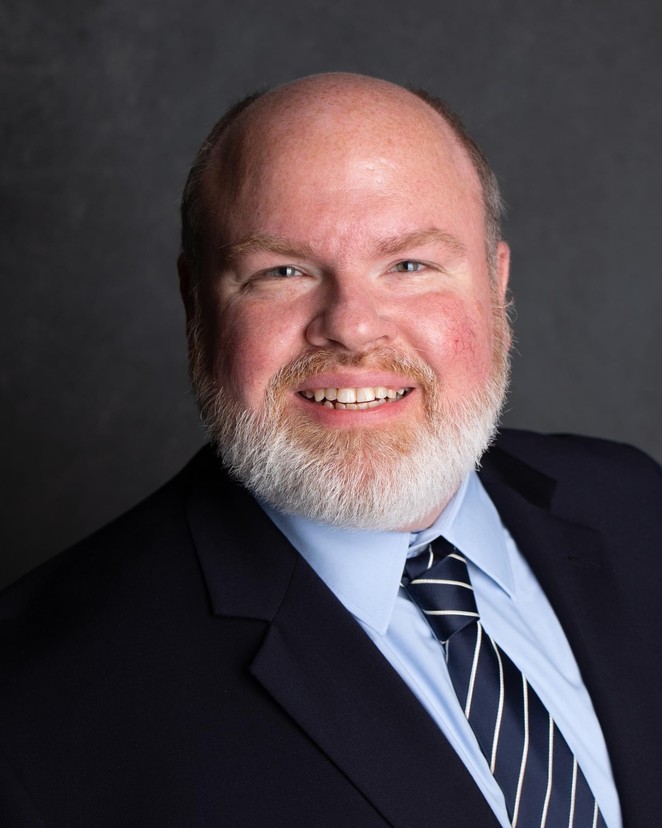 Scott is Executive Director/Artistic Director of St. Louis Cathedral Concerts at the Cathedral Basilica of St. Louis. He is responsible for running all aspects of the organization including marketing, development, selecting artists, and programming educational events. He holds a Bachelor of Fine and Performing Arts degree from St. Louis University, in both Vocal Performance and Theatre and is an active performer in St. Louis.
Since 1993 he has served as the Tenor section leader for the Cathedral Basilica of St. Louis Choir and Archdiocesan Choir of St. Louis. He also serves as cantor for the Cathedral Parish, as well as at major Archdiocesan events. He was a cantor/soloist for 100,000+ in attendance and a worldwide television broadcast audience for the Papal Mass in St. Louis, Missouri in 1999. He has toured as soloist throughout the United States, Italy, England, Germany, and Austria. His performances have included Verdi's Requiem in Rome, Italy; Hector Berlioz's Te Deum in the Cathedral Basilica of St. Louis, and numerous performances of Handel's Messiah as well as other oratorios including The Seven Last Words of Christ by Dubois. He has also performed with Union Avenue Opera and the St. Louis Muny. He holds a Bachelor's Degree in Fine and Performing Arts/Music and Theatre from St. Louis University, and has studied voice with Christine Armistead at Washington University.
In 2017 Scott was one of the winners of the St. Louis Blues NHL franchise "Search for a National Anthem Singer" competition. Since then he has sung both the Canadian and US National Anthems for over 20 NHL games at Enterprise Center to wide-spread acclaim.
Scott has multiple recordings with his collaborator John Powel Walsh including Pie Jesu, Midnight Clear, Angels Bending Near the Earth, Words to Music (Songs of Eugene Field), and Emerald Tribute, honoring the great Irish singer, John McCormack.
Vox Una Youth Chorale Residency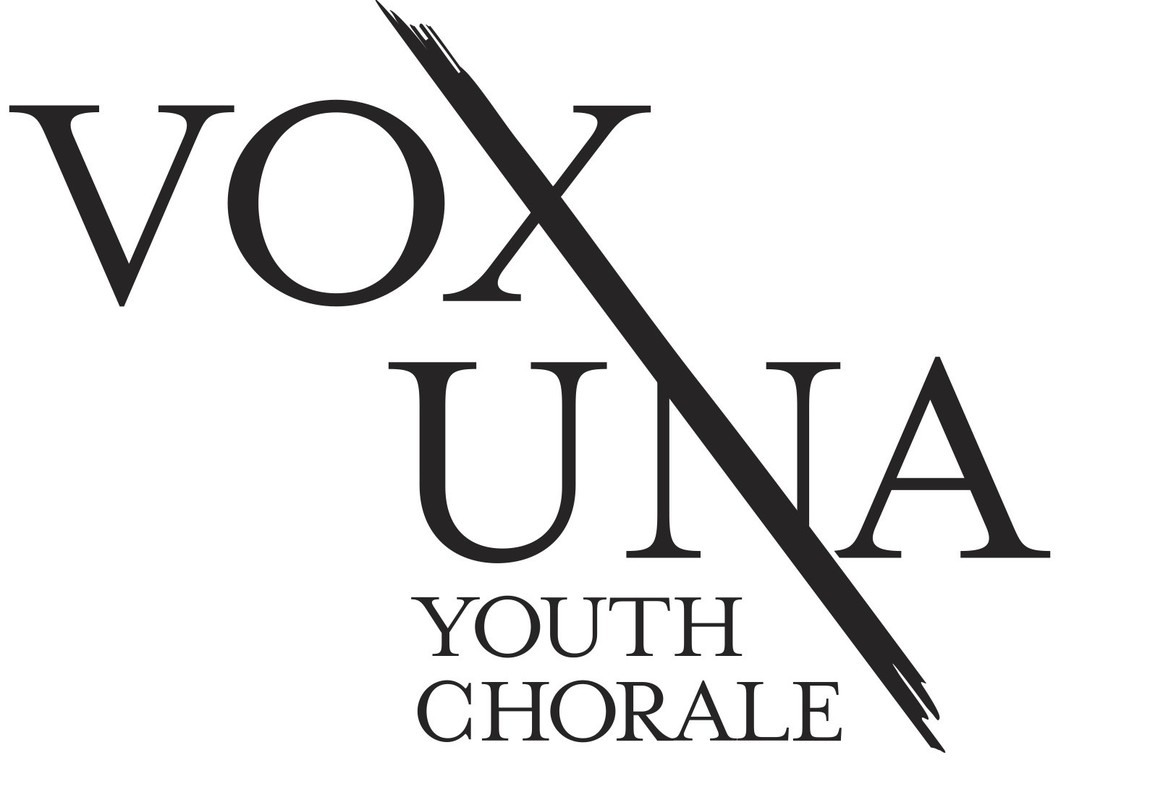 From Executive Director Addie Akin:
In the fall of 2021, during the height of the pandemic, I was searching for ways to better engage with the incredibly talented high school singers in the St. Louis area. In a casual conversation with my husband, he simply said: "You need to create your own choir."
Thus, the idea for Vox Una Youth Chorale was born.
During my years at St. Louis University High School and Cor Jesu Academy, I have become acutely aware of a need for a high-level mixed ensemble for students attending single-gender high schools. Participating in District and All-State festivals are rewarding and challenging endeavors, but the opportunities are few, and the experiences short-lived. Our students deserve more.
VUYC was created to provide high school vocalists with experiences that will not only fill both musical and social voids, but expose them to challenging compositions that will enhance their love for music. As members of Vox Una, students will have the opportunity to perform with talented singers from all over the region, in world-renowned spaces.
VUYC is thrilled to partner with the Archdiocese and the Cathedral Basilica of St. Louis for the 2023-2024 season as an artist in residence. As such, we are looking forward to singing on a concert as part of St. Louis Cathedral Concert's season and will have use of the facilities for rehearsals as needed. Additionally, Vox Una will be invited to sing at a handful of liturgies at the Cathedral throughout the year.
I feel extremely privileged to be joining students on this unique and rewarding musical journey, and I'm excited about the potential and possibilities that lie ahead.
For more information regarding the choir and how you can join please go to Vox Una's website by visiting www.voxuna.org
Cathedral Basilica of St. Louis Sacred Music Internship
The Cathedral Basilica of St. Louis music department is pleased to offer a summer internship to those who are interested in working in music ministry. This special opportunity is open to vocalists and organists who are currently in a undergraduate or graduate degree program with a focus in, but not limited to, sacred music, organ performance, music education, conducting, or vocal performance. The internship consists of working along side the music staff in the office as well as participation in music ministry for Mass and other liturgical events giving young musicians on the job training to help prepare them for leading a successul sacred music program.
Our 2023 Music Intern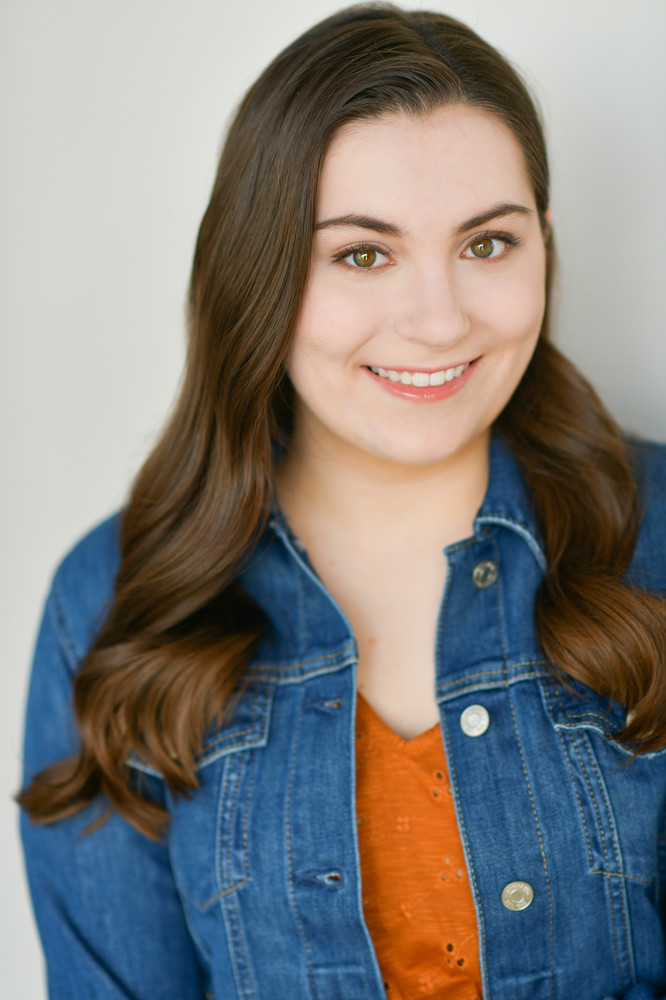 Sarah Hymes is a native of St. Louis and graduated from Cor Jesu Academy in 2021. She and her family are also active members at St. Clare of Assisi parish. There, Sarah got her start in cantoring with music director Wen Shen and would be regularly spotted at the 8:00 Sunday morning Mass. At the same time, Sarah had been honing her musical skills with her voice teacher, Katie Kopff, and singing in the Cor Jesu Academy choirs and musical theatre productions. Over time, she grew to be recognized for her singing with award recognitions from
the Missouri Federation of Music Clubs and the Missouri District and State level Solo and Ensemble competitions. All of this contributed to Sarah's growing interest in pursuing music as a career.

Sarah is now a rising junior at Drake University where she is a double major in Vocal Performance and Music Education. At Drake, Sarah studies a wide repertoire of vocal music with Dr. Alyssa Becker and coaches with Cassie Makeef. She has also had the privilege to work with a variety of accomplished faculty members including Leanne Freeman-Miller and Dr. Eric Barnum. Last April, she made her Drake Opera Theater debut as the Sandman in Engelbert
Humperdinck's Hansel and Gretel (sung in English), directed by Dr. Isaiah Feken, Christine Blanner, and Leanne Freeman-Miller. Additionally, just as the school year ended, she had the opportunity to travel with her choir, Borealis, and the other Drake choirs to Ireland. The choirs toured the country and sang in historic Catholic churches in Cobh, Galway, and Dublin, one of which even dated as far back to the Medieval age.
Sarah also is active in Drake's Catholic student group (DU Bulldog Catholic) at the St. Catherine of Siena church and started singing with the parish's music director, Dennis Hendrickson, as soon as she arrived. Singing at St. Cate's (as it is lovingly called by the Drake students) also gave Sarah the opportunity to attend and sing at the 2022 Bishop's Dinner with three other Drake students, each on one vocal part.